CPL Useless
What's with CPL's customer service? I sent them an ebay message a few days ago and no reply, I sent the rep on here a message and no reply.
I've boycotted them since they bungled a PC order of mine 10 years ago (charged restocking fee when the parts weren't compatible even though I asked them and they said they were), but you'd think a decade would change their customer service.
Guess not.
Scorptec has the CPU cooler I was looking for a bit cheaper anyway, and they're closer to where I live.
/rant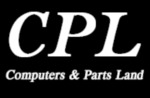 Related Store: CPL Online