2017 Accor 'Le Club' Free Upgrade - Does anyone have a code?
Hi all,
I was hoping my fellow bargain hunters could help…
I am looking to join the Accor 'Le Club' membership and was hoping that one of you legends could please help me with a code for a free status upgrade, or point me in the right direction?!
I have googled a lot and there were a couple in 2013.
Thanks all!!
KJ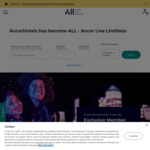 Related Store: Accor Hotels