expired Medium Fries and Medium Drink $2.60 (Normally $5.45) Via Mobile App @ McDonald's
840
Based on the Golden Meal offer they have in their app.
The only thing you can remove to save money from a Big Mac that saves money is the meat patties ($1.20 each). Some people add a chicken patty instead ($1.60), but sometimes all you want are fries and coke.
Since the app currently has a promotion for free medium Fries and Medium coke, one can remove all meat to get the price down to $2.60 just for the fries and coke.
You can also change the big Mac to an onion and pickle salad, with a side of big Mac sauce for free!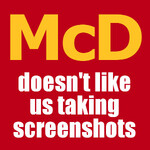 Related Store: McDonald's