Expedia Cash Back Cancelled by PricePal?
eecchhoo
on 19/05/2017 - 19:39
Last edited 20/05/2017 - 11:45 by 1 other user
I have 2 cash back that was done through pricepal for accomodation bookings via the Expedia in feb 2017 and stayed in April 2016.
It was tracked and just found out today it's cancelled and Expedia is not on store search.
What is the chance I get the cash back?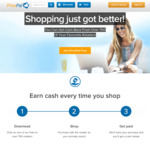 Related Store: PricePal