expired Winter Scarves Sale - 20% off on All Scarves @ Bazaari E Trade
10
ozb20
All our scarves are superior quality made in India using Australian Wool, Indian Cotton & Chinese Satin Silk.
Price range from $50 (Blended Scarf) - $90 (Pure Satin Silk Scarf). Use coupon code "ozb20" to avail a 20% off on all scarves.
Visit our online store to see our complete range :
Keep warm during this winter :)
Shipping - All our scarves are light weight (100-300 grams). Standard & Express shipping available through AusPost Shipping within Australia, calculate shipping during checkout as it may vary as per your post code. It ranges from 7-10 dollars for standard and 10-15 dollars for express shipping.
About Bazaari - Bazaari is an importer of high quality products from India. We are starting our journey with clothing accessories and will add more products as we go.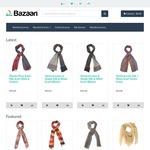 Related Store: Bazaari