expired Huawei Dual Sim G6600D Mobile Unlocked $79 BigW online starts 13/7
90
Received my latest BigW catalogue and on page 20 they have some 'online' only specials including the Huawei Dual Sim unlocked mobile for only $79 save $20. Good price for one of the very few dual sim phones.
See this link to the Huawei website: http://www.huaweidevice.com/worldwide/productFeatures.do?pin...
This phone isn't 3G, only 2G and supports a range of frequencies (should cover everyone except 3). I am yet to find a genuine dual sim phone that has 3G on both sims!
Great for those who have a work phone and personal phone (maybe get a new job where they are not so stingy on personal calls) or where you might have a special someone in your life that your don't want your wife to know about.
Both sims operate simulataneously, and you can make or receive calls from either sim without turning off etc. It has email and web interface, but i couldn't see them being very special. It isn't Andriod or Windows based. I'm sure no one is flocking to the Huawei App store!
Great phone for the price.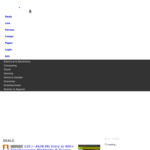 Related Store: Uploaded Files