expired The Complete SLR Digital Photography Course DVD Now $15 and Free Delivery with Groupon
490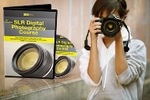 Affiliate
The Complete SLR Digital Photography Course DVD Normally $20 Now $15 and Free Delivery
Hello, I've been asked many times to repeat this deal and I have, its through Groupon and as I will be fulfilling the purchases I will make sure to send the course out as quickly as I can, hopefully the same day I get the order, cheers
You can check the feedback from previous deals
http://www.ozbargain.com.au/node/61247
http://www.ozbargain.com.au/node/58225
Ebay
http://feedback.ebay.com.au/ws/eBayISAPI.dll?ViewFeedback2&u...
Amazon
http://www.amazon.com/gp/product/B004YJQSZ4/
Amazon.co.uk
http://www.amazon.co.uk/gp/product/B004YJQSZ4/
And this lovely comment from one of the Ozbargain members
FWIW - I purchased this for my wife for Xmas as she has had a DLSR for a number of years but has never been truly happy with the photos that she has taken. On our camping trip last week my wife was going crazy trying all of the techniques that are explained on the DVD and I am just reviewing the photos now. Some big improvements already just doing the basics.
Why I like the DVD:
it covers most topics needed by us amateurs (ordinary folk) and provides some detail without getting caught up in all of the technical jargon
it is Australian and does not get caught up in being too serious and boring
whilst the camera that is used is a Canon the rules and guides are applicable to most brands of DSLR
it is a very nice introduction for those people who might wish to go on to formal, advanced face-to-face photography courses i.e. TAFE or private courses because it allows you to have the basics under your belt and not feel like a total newbie
product delivered on time, as promised and packaging, etc of good quality
it has an easy to use index so that you can skip to parts that you want to review and practice
There are more reasons but I suspect that you get the idea. I like it and recommend it. I have already passed on the details of the product to friends and family and have strongly recommended that they buy it.
Referral Links
Referral
:
random (1445)
Referrer will receive $10 credit after referee makes first purchase of $10 or more within 72 hours.