expired PS Vita Wi-Fi/3G for $278.40/ $335.20 from Dick Smith Canberra DFO (Cheaper at GG)
110
Hi chaps, I snapped this picture at Dick Smith DFO on Sunday. 20% off their regular price of the Wi-Fi and 3G Vita. I thought, sure, that's not bad.. but perhaps I can get it lower. SO I trotted off to the three Good Guys stores here in Canberra, one had no stock, one wouldn't pricematch that low (their lowest offer was $358 for the 3G), but the third one came good, after some.. 'robust' negotiations.
So using the 20% off gift cards purchased on Monday, I paid $268 in total - down from the original price of $417. Your mileage may vary, but at the very least, if you're in Canberra, there was plenty of stock left at Dick Smith DFO.
I've edited out my own information and that of the salesman at GG, but here's a copy of my receipt.
http://img.photobucket.com/albums/v242/cmdwedge/gg_edited.jp...
Good luck!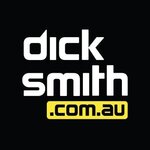 Related Store: Dick Smith / Kogan