expired Civilization V: Gods & Kings DLC - $22.95 with Voucher ONE DAY ONLY
130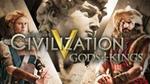 Affiliate
CIVGO-DSAND-KINGS
GreenManGaming.com additional 15% Off voucher for "Sid Meier's Civilization V: Gods & Kings" Steam Code - ONE DAY ONLY.
If applied to the existing reduction of 10% for the game brings, the price goes down to $22.95 from $29.99 (equating to 25% Off) which is cheap considering Steam is selling it for $44.99 (incl. 10% Off).
NOTE: The base game Sid Meier's Civilization® V is required as well on Steam in order to play as this is a DLC.
Related Store: Green Man Gaming