expired Hungry Jacks Coupons (Valid through 30 Nov 2013)
1880
First time poster so hopefully I completed this all right.
Hungry Jacks Vouchers (Valid at participating HUNGRY JACKS stores, I assume that means ALL stores)
I have tested these at the Rouse Hill(NSW) store and they accepted it fine.
There has been a few changed from last times vouchers. The one I really enjoy is the "WHOPPER CLASSICS MEAL" for $9.95, get a large meal and a small meal instead of 2 small meals like the coupon "MEAL DEAL FOR TWO" above it… Loved it.
Hope this works for all fellow bargainers :D
Expiry date: 30th November 2013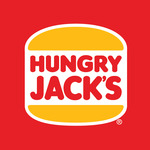 Related Store: Hungry Jack's