expired Rays Outdoors - Brahman 4 Burner Hooded BBQ $79 VIP Price, Save $120.00 - Membership Free
620
As described on the website. Just a entry level BBQ but you can't go too wrong for $79. I just mentioned the VIP price and they gave it to me for that, didn't have to show membership. There is a cheaper similar one,
http://www.raysoutdoors.com.au/online-store/products/Brahman...
but it wasn't in the store I went to, Toowoomba. There were 3 or 4 of this one when I went there. Other stores might have a couple more.
I have no idea on expiry either.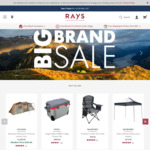 Related Store: Rays