expired Westfield Value Guide +$10 gift card first 10 to join "we rock" kids club + spend $120 get $20
70
I just went to westfield today and got the new Value guide book.
There is 3 parts to this post.
1
FREE Value Guide with coupons & tips.
Parenting is one of the most important and rewarding jobs, but it isn't always easy. The Value Guide provides a helping hand, plus over 50 value coupons to drive your dollar further.
Visit the Concierge Desk on Level 2 and Level 5 to collect your FREE Value Guide.
Some nice coupons are:
easyway buy one get one free,
various % off items,
free something when you buy a meal, e.g. coffee or icecream
pie face buy one get one free,
novo 15% off storewide
20% off colorado when spend $100
lots of kids clothing/shops discounts
and plenty more inside
The coupons are exclusive to some westfields (parramatta, burwood, liverpool and north rocks)
2 - NOW FINISHED AT PARRAMATTA
the first 10 to join the "we rock kids club" get a $10 gift card,
I was the first one as they still had 10 in the stack,
please note that this is a kids club, so you sign up as the parent/guardian and then register a child/sibling.
I think each westfield will have their own 10 (burwood, parramatta, liverpool and north rocks)
3
Westfield Bonus $20 Giftcard
Spend $120 or more on the same day at participating stores in one centre and receive a $20 Westfield Gift card.
Take your rceipts to the concierge desk.
Starts 1/7/09 until 16/8/09/
Excludes department stores and supermarkets.
thanks :)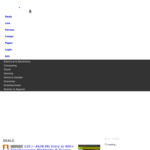 Related Store: Uploaded Files