expired Pioneer VSX-1131 7.2 Network AV Receiver €424 / AU$607 Delivered @ Amazon Germany
580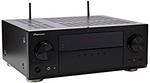 Affiliate
Pioneer 7.2-channel receiver with 7x160 Watt, full-range streaming, Dolby Atmos, DTS:X, 4K Ultra HD, video scaler, 7 HDMI ports, HDCP 2.2, hi-res audio playback, Apple Airplay, Dual Band 5 GHz/2.4 GHz WiFi, Bluetooth, Internet radio with TuneIn.
The VSX1131 has Ultra HD (4K/60p/4:4:4) upscaling and passthrough and support for the latest video standards HDR and BT.2020, images are ever more impressive. In addition to internet radio and various network streaming services, with Google Cast™ built-in you can use your mobile device to cast your favourite music to your receiver.
Channels - 7.2
Watts (per Channel) - 160 @ 6ohms
Upscaling - 4K Ultra HD
4K Upscaling - True
3D Ready - True
4K Ready - True
Dolby Digital - Dolby Atmos/ DTS - DTS:X
DLNA - True
AirPlay - True
FM Tuner - True
HDMI Inputs - 6
HDMI Outputs - 2
Front USB Input - True
Digital Audio Inputs - Coaxial & Optical (TOSLINK)
Phono Input - 1
Composite Inputs - 1
Component Inputs - 1
Ethernet / LAN Ports - 1
Bluetooth - Yes
Some local prices for the receiver:
$1399 at JB HI-FI
$1399 at Rio Sound & Vision
$1175 at Videopro
$1149 at Digital Cinema
NOTES: A power plug adapter is required. Warranty is unlikely to be provided by local distributors for parallel imports.
Related Store: Amazon.de