Stay Away from DinoDirect
Associated
rthomson
on 20/05/2017 - 03:03
I purchased a dash cam from DinoDirect online on the 10th December 2016 USD$43.98 and they failed to send it.
I gave it two months as the shipping from China can take two months. The beginning of March I opened up a case on their website and on 2nd March 2017 I they emailed the following.
"Thanks for contacting us,
The product you ordered is in high demand and we are also waiting for the supplier to send stock to us.
Will you pls kindly wait a few more days?
Appreciate your understanding."
On April 4th 2017 I managed to get through to them on online chat (They now no longer answer chat unless I pay for membership and I would not count on them answering). I was told that the refund would take around 10-20 business days. In the last two weeks I have sent messages to their online case system and emailed them and have not received a reply.
I had had a good relationship for years with them up till now so I have not searched for reviews on them. I wish I had now. Here are two sites with many complaints.
https://au.trustpilot.com/review/www.dinodirect.com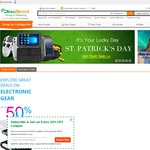 Related Store: DinoDirect