expired Zhiyun Smooth Q Mobile Gimbal - US$99.99 (~AU$126.03) Delivered (Tracked - HK) @ Zapals
110
Affiliate
Zhiyun Smooth Q Mobile Gimbal - US$99.99 (~AU $126.03) Tracked Shipping (5-8 Business Days HK)
About $6 less than the previous deal. A good price, cheapest next to the eGlobal deal, unfortunately stock was scarce and appears out of stock for some days. See all previous deals for comparison & discussions.
Edit: Shipping is tracked with 5-8 business days delivery, select regular shipping at checkout. See rep comment.
*Remember to pay in USD on the site to get the best rate. US$99.99 = ~AU $126.03 using MasterCard rates, check with your bank if forex fees apply. You can also pay in USD in Papal by changing currency conversion options at payment screen.
Edit: Claim a free USB Type-C to Lightning cable with your purchase, thanks to O O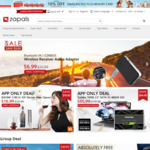 Related Store: Zapals