expired 6x Kopiko Mini Coffee Jar 600g + 6x FREE Kopiko Coffee Glass - $30 + $8.95 Shipping
110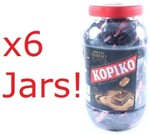 Affiliate
Hi Guys, I've thought it was about time to put this up for sale since I get asked about it all the time.
If you know what Kopiko is then this is where you can buy it and get a free Kopiko coffee glass in every jar, if you don't know what it is then you don't know what you're missing ;P
The stock is fresh, best before date is October 2011 and each jar contains 200 individually wrapped pieces.
Check the listing for the new Milko flavored coffee candy.
Enjoy!
John
Mod — OP is the store owner at the eBay store however "Store Rep" is not ticked due to limitation of OzBargain website. —scotty