expired $1.99 for HDMI Gold Plated Cable, also $19.95 for LCD/Plasma Wall Bracket rated up to 50" 60KG.
110
Three Awesome deals for you again today from eSOLD.
1: $1.99 for a HDMI Gold Plated 1.5 Metre HDMI (V1.3) Triple Shielded Cable, Buy from an Australian Company and get quick local delivery. $1.98 shipping on first unit and 99c for each extra cable. UPDATE: Only 300 of 1000 left!
2:Final Clearance on a Laser Portable Video Player with Brilliant Colour Screen and 4GB Ram at just $19.85, on last 30 units Left, Special for OZBargain subscribers only. You need to use the following special link to grab it at this price-> http://bit.ly/dXx6ec
3: $19.95 for Heavy Duty LCD/Plasma Wall Bracket rated up to 50" Screen and 60KG weight, also Tiltable. For a unit of this quality expect to pay upwards of $60 elsewhere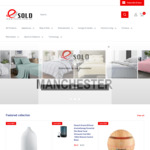 Related Store: eSOLD.com.au