expired Inspiration Pursuit Treadmill @ Target - Clearance Price- $150.06 (originally $599)
170
Just bought this treadmill at Target Sefton Park, SA. Inspiration Pursuit Treadmill for Clearance Price of $150.06.
The original clearance was $286.86 and a reference from a Target catalogue last year suggests they were originally $599.
So, that's a total of 75% off! Gotta be happy with that!
This description from Ozbargain last year. http://www.ozbargain.com.au/node/26600
"York Inspiration Pursuit Treadmill@TARGET-$299 (SAVE 50%)"
"1 hp motor. 12 programs. 3 level manual incline. LCD computer display. Maximum user weight 110kg. Folds away for easy storage. 13km/h maximum speed."
One last thing, it's REALLY REALLY heavy. I had to get help putting it on the trolley.
Happy Bargain Hunting.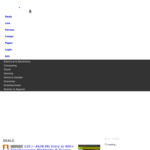 Related Store: Uploaded Files