expired Flatout Ultimate Carnage - Games for Windows Was $29.99 Now $7.48
31
I found this game while browsing the Games for Windows Marketplace client. Normally it's $29.99 but only $7.48 if your interested in car racing.
You need to install Games for Windows client before you can purchase this game.
FlatOut Ultimate Carnage Minimum System Requirements
•OS: Windows Vista/XP
•Processor: 2.2 GHz Intel, 2.2 GHz AMD
•Memory: 2 GB RAM
•Hard Drive: 8GB free hard disk space
•Video Card: NVIDIA GeForce7600+, ATI X1800+ - On-board/integrated graphics cards and laptops not supported.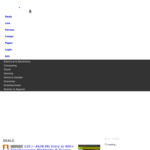 Related Store: Uploaded Files