expired Olympus VG-140 Camera $79 w/ Free Delivery & Bonus 4GB SD Card from Cheapbargains.com.au
20
OZBARGAINCARD
Hi All,
For today and tomorrow (29/2/2012) only we are offering an Ozbargain.com.au exclusive deal.
Sure, we have the cheapest price on Australian genuine Olympus VG-140 cameras at $79 with free delivery but we want to make it sweeter by offering a bonus 4GB SD card.
Simply add the code OZBARGAINCARD to the comments section of your order and we will send you the bonus card.
Stock is limited so get in quick. (Blue is already sold out, only black and silver remain).
Here is the link - http://cheapbargains.com.au/catalog/product_info.php/olympus...
Here is some information about the camera.
- 14 Megapixels
- 5x Wide Angle Optical Zoom
- 3.0" LCD Screen
- One Touch HD Movie
- Digital Image Stabilisation
- Intelligent Auto
- AF (Auto Focus) Tracking
- Face Detection
- Magic Art Filters
- In-Camera Help Guides
As always, feel free to contact us at sales@cheapbargains.com.au, call us on 02 4931 9312 or friend us at http://www.facebook.com/pages/cheapbargainscomau/12486364753...
Cheers
Tom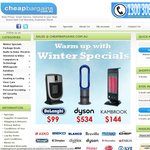 Related Store: Cheap Bargains