expired Essential Accessory Pack for iPhone 4. Only $1.49 with Free Shipping. Limit 1 Per Customer
40
Essential Accessory Pack for iPhone 4:
The pack will contain :
1 x iPhone 4 data recharge cable,
2 x iPhone 4 Screen protector
1x iPhone ear phone (no mic)
BONUS OFFER: Get a 2nd earphones for FREE when you -
1.Like us on Facebook
2.Write your order number on our facebook wall.
These are non Apple branded product. iphone is not included
We are an Australian company. Everything shipped from Sydney. Accepted payments via – Visa Credit/Debit Card and Master Card – Credit card only .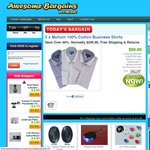 Related Store: Awesome Bargains