SoSharp closed down?
scotty
on 30/08/2012 - 09:54
Last edited 29/10/2012 - 16:58
Got an email this morning from some who enquired about no delivery and no contact from SoSharp.com.au. Well at OzBargain we do get this kind of emails pretty much everyday, from people mistaken us as the merchant.
So I went to SoSharp's website trying to grab the contact details — and found that it is actually BLANK. Looks like they have closed their door?
Anyone else affected here?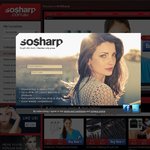 Related Store: SoSharp