expired STELLA Ergonomic Office Chair for $99 (down from $349) ?Delivered
51
I stumbled upon this website by accident, saw this chair on sale, and I thought of my fellow OzBargainers who need/want a new office chair but are too cheap or too poor to afford the recently posted Aeron chair (not me, I bought 8 of those chairs).
Looks good but unfortunately I couldn't find any reviews online (just did a quick Google search) so I'm not sure about comfort and quality. Also not 100% sure if price includes delivery as you'll need to register to order one.
Or if you just need a break from the office and don't really need a new chair, just spend your $99 (plus 90 minutes of your time) on this one.
Disclaimer: airfare not included:
https://www.whypayfullprice.com.au/deal/dont-miss-out-you-ge...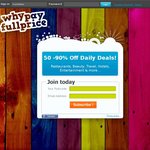 Related Store: WhyPayFullPrice