expired Kathmandu Sale - up to 60% off selected items
170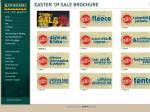 Affiliate
I know they have these sales every 2 minutes, but Kathmandu is having another 'up to 60% off everything sale'
Here is the catalogue, some of the deals look quite good tbh; http://www.kathmandu.com.au/easter-sale-au/Information/586
It starts tomorrow (Wednesday) for Summit club members, and then Thursday for the general public.
To become a member (you can join up on the day) it costs $10, or just show your students card, yha card etc for free membership. Otherwise just wait the extra day, and pick up the sales.
Hope this interests some people.
EDIT - I've updated the title (see post below)
Related Store: Kathmandu