expired Intel Core i5 4570, 8G RAM, H87, 120G SSD + 1TB HDD Only $699 + Shipping
580
Hi guys, today we have an Intel 4th Gen Core i5 4570 powered PC on special. It includes an Intel 4th Gen Core i5 3.20GHz, Asus H87 motherboard, 8GB of Kingston HyperX 1600MHZ RAM, 120G SSD + 1TB HDD all in a quality Coolermaster case.
CPU: Intel Core i5 4570
MB : Asus H87M-E
RAM: 8GB Kingston HyperX 1600MHZ
SSD: Samsung 840 120G
HDD: 1TB Seagate SATA3
ODD: Samsung DVD Writer
CASE: Coolermaster K350 Gamer Case with USB3.0
PSU: Thermaltake Smart Power 650W 80+ Bronze
WTY: 1 Year Return to Base Parts and Labor Warranty
For delivery orders, spare boxes will not be shipped. Manuals/CDs and spare parts/cables will be shipped inside the case.
Limited units available. To take advantage of this offer, payment MUST be made TODAY via PayPal or bank transfer. For bank transfer customers, proof of transfer today must be provided.
3/10: Back in stock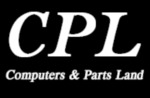 Related Store: CPL Online