expired McDonald's - Free Big Mac (Facebook Not Required)
2840
Looks like Macca's still has heaps of Big Macs left even after the Big Mac Chant event. Voucher is valid until Saturday. It's generic and probably reusable once a day (or more for multiple stores).
Edit 1: Thanks to BeauGiles and TheAviator1992 for the direct link skipping Facebook!
Edit 2: Website is closed, existing vouchers expire tonight.
Mod: Do not post links to vouchers or voucher generators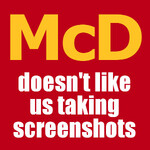 Related Store: McDonald's