expired LG G2 F320 4G $739.00 + Shipping (Unique Mobiles)
40
http://www.uniquemobiles.com.au/lg-g2-f320-black-umd (Black)
www.uniquemobiles.com.au/lg-g2-f320-white-umd (White)
The LG G2 is finally here! 5.2 inch Full HD Screen. 13MP OIS Camera and 2GB of RAM and 2.26Ghz Snapdragon 800, This is a beast!!
This is an import direct version from Hong Kong meaning it is not the Australian Version but has English language setting and is compatible with all Australian apps and settings.
This is the 32GB Version.(24.8GB User available)
Has all bands for Australia and is Next G Compatible including all 4G Bands.
Usually $799 at Mobicity for 16GB and $849 for 32GB Version.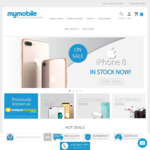 Related Store: Unique Mobiles