expired Qatar Airways Treasure Hunt - Find The Golden Ticket (Example: Adelaide / Melbourne <-> Pisa under $700)
630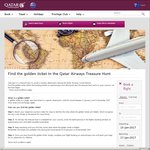 Affiliate
Look for flights to and from your Australian city to the following destination in months listed:
DXB - Feb, March, April, May, Jun
BHX - Feb, Apr, May (but saw dates in early Jul)
PSA - Feb, Mar, Jun (but saw dates in early Jul)
EVN - May
TBS - Apr, May
DUB - Jul
From this video: https://www.youtube.com/watch?v=ogRfX7JMYoA
"What is a golden ticket? A golden ticket is a single, zero-fare ticket to a specific destination, valid for travel between 11 January and 15 December 2017. Only taxes and surcharges apply."
See this page for more information: http://www.qatarairways.com/au/en/offers/travel-festival-tre...
I just booked Adelaide to Pisa (Italy) return for under $700pp (2 people). Amazing.
There are some golden tickets in both directions if you can find them. Happy hunting, share your finds in the comments below. Today only (for flights out of Australia) by the looks of the promo page.
You can't stack with existing coupon codes, if you put that in the search field it stops the golden tickets appearing.
Examples:
Melbourne <> Pisa - May 30th, returning July 4th - 679.54 AUD (per person)
Melbourne <> Dubai - May 16th, returning late May (various dates) - 173.84 AUD (1 ticket only on first leg)
Adelaide <> Pisa - May 30th, returning July 2nd - 686.97 AUD (per person)
Looking like this may be end of life, so expiring it. I note that Adelaide is one of the destinations in some of the later in the week promo's so might still be possible to book something then.
Related Store: Qatar Airways