expired Fiftysix Build a Business Workshop: Brisbane and Sydney. 20% off ($400 single entrant) 3 Day Workshops (For Kids aged 7-14 yrs)
10
FIFTYSIXLOVE
In just 72 hours, you will experience the highs, lows, love, and pressure that make up the world of business. You will meet the most amazing friends and mentors, along the way building your very own business.
Tablet Exploration, Virtual Reality and Entrepreneurship are all covered!
20 percent discount code: 'FIFTYSIXLOVE'. 2 weeks only!
---
What this is:
A three-day workshop in Brisbane or Sydney where students will have the opportunity to create and innovate using new technologies.
Registrations are open to all kids aged seven to fourteen-years-old. Due to the popularity of school holiday workshops, it is anticipated that all places will be taken very soon after registrations open. Parents should be online when registrations open if they wish to secure a place.
Ticket purchases come bundled with a Fiftysix One Kit worth AU$199.
Specifications of the One Kit DIY-Assembly Tablet is:
7-inch IPS LCD screen
Screen resolution of 1024 x 600 pixels
1.2GHz quad core processor with 512 MB RAM
Android 5.1 operating software
Rear- and front-facing cameras, speakers, built-in microphone, GPS, Wi-Fi and Bluetooth

Event Schedule
Day 1: Meet, Brainstorm & Team Up
Form 'Squad' Groups
Pitch a business or social change idea
Learn about tablet technology, virtual reality & holograms

Day 2: Learn & Work
Go out and test your business model - market research (students will be accompanied by facilitators)
Build a prototype - website or application

Day 3: Present & Celebrate
Learn from the best - mentors will be coming in throughout the day to coach you through any challenges
Create a presentation - posters, script and video content
Present your idea in front of an audience and a panel of judges

Locations
Brisbane
Date: Monday 18 September 2017 to Wednesday 20 September 2017
Time: 9:00am to 4:00pm
Final Presentations: 3:00pm on Day 3
Location: The Capital by Little Tokyo Two, Level 2, 155 Queen Street, Brisbane City, 4000, QLD, Australia (Access via the Brisbane Information Centre and Regent Theatre, next to Zara).
Sydney
Date: Wednesday 27 September 2017 to Friday 29 September 2017
Time: 9:00am to 4:00pm
Final Presentations: From 3:00pm on Day 3
Location: Glebe Town Hall, 160 St Johns Rd, Glebe, NSW, Australia.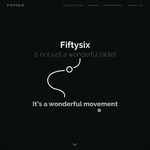 Related Store: Fiftysix