expired Virgin Mobile - Unlimited Free Text + 1GB Data on "Your Caps" (Pre-Paid)
130
I was just having a look at Virgin Mobiles recharge options and found that the current "Your Caps" have some kinda promotion on for both text and data. Don't forget it already gives unlimited calls to other Virgin phones, which is of course still offered.
For any of the your caps recharge, until the end of January 2011, you get unlimited text to any Australian mobile (excluding satellite phones) as well as 1GB free mobile internet with every recharge, and you can accumulate up to 5GB at any one time.
Compared to the post-paid option (called Smart Cap plans), this is basically $10 cheaper per month, with slightly lower call rates (90c/min vs 99c/min), cheaper international sms (35c vs 45c), less data (varies). However, it should be noted that the Smart Cap plans are usually signed under a contract of 24 months + a phone. If you BYO with a Smart Cap you would get 20% extra credit (though, in my opinion, $10/month saving with current promotion is better). I believe Your Caps has a kind of "rollover" though, just like the Smart Caps (just recharge before it expires).
Summary of monthly price + credit (I think all give 1GB data)
$19 - $50
$29 - $150
$35 - $180
$45 - $320
$75 - $650
$95 - $850
Personally I think only the cheapest two or three plans are worthwhile. For the rest, it's probably better off you consider other providers that have more competitive rates and credit vs monthly price costs. Just thought this would be good for anyone specifically after Virgin pre-paid.
mod - from terms and conditions
You must have a minimum ½ balance of credit to access bonus credit and data.

Bonus credit can only be used for standard voice calls, text, MMS, calls to 13 & 18 numbers (excluding calls to Virgin Mobile customer service), is used first for eligible calls, services & excess data

All credits & internet expire 28 days from recharge, or earlier if you recharge with a non-Your Cap voucher.

Recharge within 28 days with a Your Cap voucher to rollover unused credit/internet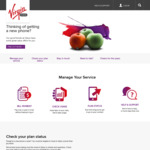 Related Store: Virgin Mobile