expired Samsonite Cosmolite FL 2 75CM $241.30 FL 2 81cm $255.55 Delivered @ Luggage Gear
370
Kdpod9
I've been watching the price of these for a while and looks like they have dropped again. Mixed reviews on products and warranty, however seems to be a pretty good price to take a chance.
Note - 81cm - May exceed dimensions for most airlines.
Apply coupon code - Kdpod9
Includes free shipping.
Edit - Unsure if version Fl 2 and 3.0 are different. 3.0 is available on eBay using 5% off coupon P5OZZIE. Slightly more expensive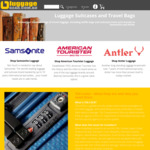 Related Store: Luggage Gear