expired FREE "Super 7" on iOS [14.8 MB] + Update @19/04/2011
600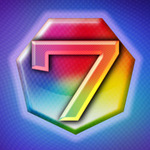 Affiliate
OpenFeint and No Monkeys are teaming up to help with the Japan Relief effort. Support the cause by downloading Super 7!
The next generation of line-drawing games has arrived with Super 7 for the iPhone, iPod touch and iPad.
Draw lines to combine the numbered discs and try to create 7s. Sure, it sounds simple but can you keep up once negative numbers and multipliers are thrown into the mix?
Super 7 won the award for best casual iPad game in the Best App Ever Awards 2010!!!
---
REVIEWS
---
"A superb experience" - www.gamesuncovered.com
"Super 7 is a must buy game" - www.148apps.com
"…an ultimate buy" - www.appmodo.com
"Another Great No Monkeys Masterpiece!" - www.touchmyapps.com
"…a line-drawing game that's both fun and crazed by achievements." - www.nodpad.com
"New & Noteworthy!" - Apple
---
FEATURES
---
☆ Easy to pick up game play that will take hours to master.
☆ Fun power-ups!
☆ Real time leaderboard updates during the game.
☆ Automatically saves your game, simply press the home button to save your game.
☆ iPad support! Super 7 is an Universal binary so you can enjoy it on the beautiful big screen of an iPad.
☆ Super 7 is OpenFeint enabled:
- Online leaderboards.
- 17 challenging achievements to unlock.
---
Music & Sound Design by Mike Weiser, www.mikeweisermusic.com (ASCAP)
Update @19/04/2011
SuperFastCam http://itunes.apple.com/app/superfastcam/id428210834?mt=8
Point and Record!
Simply open the app to capture the moment on time!
1-2-3 Draw http://itunes.apple.com/app/1-2-3-draw/id418106369?mt=8
1-2-3 Draw gives you proven, step-by-step instruction by the authors of the popular 1-2-3 Draw book series from Peel Productions. Creative, skill based, and open-ended, you'll find it engaging enough to keep kids busy for hours. And easy enough for grownups as well!
Doodle OMG http://itunes.apple.com/app/doodle-omg/id408693916?mt=8
Just a word of warning; this game is extremely addicting and will waste a lot of your time whether you know it or not!
Help your doodle duck, dodge, and weave through falling boulders and ninja stars. Why are these things flying at you?
Well, I don't know. Thats where the name -Doodle OMG- comes from.
1945 Air Strike http://itunes.apple.com/app/1945-air-strike/id411368769?mt=8
Are you a super fan of WWⅡ? Are you a Top Gun at Flight Shooter Games? 1945 Air Strike takes you back to the cruel war and experience blood&iron! As the ace pilot of the US Airforce, your duty is to strike your enemies, hard and fast. Accomplish your mission and make history with your own aircraft!
Stylish Sprint http://itunes.apple.com/app/stylish-sprint/id390141259?mt=8
Stylish Sprint is an action running game where you play as a stickman who travels the world in search of adventure…and collects any spare coins laying around.
You can run, roll, fly, smash obstacles, and use powerups through 8 unique and varied environments.
Feast your eyes on the characters stylish acrobatics as he flips and spins through each endless stage.
Effortlessly navigate the terrain with simple and intuitive controls.
Getting sick of the main game? Try out one of the included challenge modes with their own unique playing style.
Customize your stickman's appearance with tons of cool costume items that not only add style to his dash but increase his performance in various ways.
Gain SP (style points), which act as in game currency, by completing quests, getting points during gameplay, or buying SP packs as an in-app purchase. Use SP to buy the various items included in the games shop.
BattleZone 3D King of the Hill http://itunes.apple.com/app/battlezone-3d-king-of-the-hill/i...
BattleZone is a team-based massively multiplayer online action game dedicated to armored warfare.
In BattleZone you can get into the epic tank battles of World War II with other steel cowboys all over the world. Your arsenal includes 8 armored vehicles from Germany, and the Soviet Union, carefully detailed with historical accuracy. More vehicles will be added soon with updates.
Related Store: iTunes Store