expired Nintendo Wii + Mario Kart + Just Dance 3 for $148, in Store Only at DSE (Possibly Old Wii?)
80
Oh blast, it looks like DSE have actually done a bit better for Boxing Day… yes I know I posted a Wii a mere week ago, but for $10 more than the previous bargain you get Just Dance 3 - RRP $59.98, GameCafe reports the lowest price is a shade under $25 so take from that what you will.
Also unlike the $138 Wii, this one appears to be the old Wii console with the GameCube controller support. We won't know for sure until someone buys one!
I checked stock for postcodes 2000 (Sydney CBD) and 2141 (Lidcombe\Auburn\Chullora West area) and got a bunch of green ticks, so probably a good chance your local Dickies has stock.
Also available in white: http://dicksmith.com.au/product/YG4137/
Don't forget Moneybackco\StartHere for an extra 3.5% cashback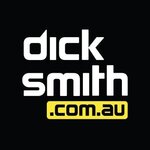 Related Store: Dick Smith / Kogan