expired E-Book: How to Set up a Classroom for Students with Autism Normally USD$10.00 Now FREE Limited
270
Ok not for everyone but I know there are Teachers on here and perhaps others that could use this and pass it on to Teachers of special needs or Autism.
Normally $10.00 today only FREE
http://www.autismclassroom.com/merchandise/ scroll down it is the first one up top.
There is also a few others for Parents etc that are half price or cheaper!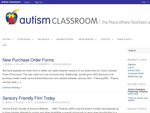 Related Store: Autismclassroom.com