expired Plantronics Backbeat 903+ Stereo Bluetooth Headphones $58.99 with Free Shipping
50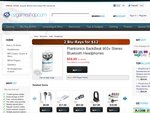 Affiliate
Plantronics Backbeat 903+ Stereo Bluetooth Headphones $58.99 with Free Shipping from OzGameshop.com closest I could find on Google Shopping was around the $99.00 mark. Looks like some great Bluetooth Headphones, theyre compatible with the Plantronics iPhone App which has a battery meter, looks like they have an Android app but sadly this model isnt compatible.
Plantronics Webpage : http://www.plantronics.com/au/product/backbeat-903-plus
Description from Website :
The Plantronics Backbeat 903+ is great for workouts, commutes, or just chilling out at home. Immerse yourself in rich audio streamed from your iPhone®, smartphone or Bluetooth®-enabled MP3 player. There's even an iPhone® battery meter. Wherever you enjoy listening to your music, never miss a beat or a call with easy-touch button controls. The voice alerts also let you know the status on battery, music track forward and back, mute, out of range and more. With three levels of size adjustment you can find a perfect comfortable fit for whatever you're doing, and the ruggedized, flexible design lets you toss it in a gym bag or stow it in the handy carry pouch.
Multi-Point functionality limited to pairing one A2DP device and one non AD2P device
Basic Specs :
Battery Power : Up to 7 hrs talk / Up to 7 days stand-by
Microphones : Dual-Mic
A2DP : Yes
Transmit Range : 30 feet
Related Store: OzGameShop