expired AMF Bowling - $13.95 for 2 games of bowling
140
Voucher to play 2 games of bowling at AMF for $13.95. Currently on their website AMF are advertising single games for $8 during school holidays so this is $1 cheaper per game than that….
A buck is a buck, after all.
Visit the AMF website http://www.amfbowling.com.au/ or call 132 263 to find nearest location.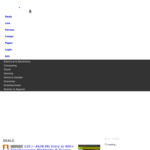 Related Store: Uploaded Files