expired Woolworths Car Insurance (Free $75 Fuel Card + 1yr Roadside Assistance + Upto 20% Discount)
252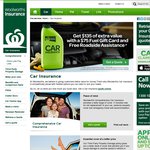 Affiliate
WOOL20
Was just having a look around for a cheaper and reliable car insurance cover and found this.
Got nearly $100 cheaper than renewing with current insurance company plus the freebies(petrol and roadside assistance).
Woolworths car insurance is running a promo providing :
$75 Fuel Gift Card#
FREE Roadside Assistance in your first year#
http://insurance.woolworths.com.au/carpromo/
And when you add the promotional code "WOOL20" you get upto 20% discount.
I got the promo code from here and even though it said as expired last year..it still works…
http://www.saverscene.com.au/insurance/10659-insurance-disco...
Edit: I purchased a third party property damage on a 1999 Daewoo Lanos and woolies quote for it was cheaper than the others.
Edit2: I have fixed the link and should be able to get online quote from it. Its a pain though trying to get a quote from a mobile device.
**For people getting crazy high quotes —You could try calling them and checking if they price match…