expired [iOS] TableTop Translator (iPad) App Free (Was $14.99) & [iOS] Shadow Bug App Free (Was US $3.99) @ iTunes
280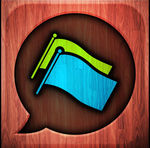 Affiliate
Another translator app on iOS (for iPad) free.
Edit: Confirmed that it is free on the Australian iTunes.
Instantly speak another language, with TableTop Translator for iPad.
With many languages and dialects available, can you imagine talking in one language and immediately hearing yourself speaking another language?
You are the overpowered ninja hero Shadow Bug! Save your home forest from the evil factory by slicing monsters to pieces.
TAP ON THE MONSTER! Leap, slash, splash! One finger is all you need.
Become the ultimate ninja and adventure through beautiful and twisted landscapes full of action and adventure.
Edit: Request Solved
Request: Can Someone please tell me if they every remember the name of a short film made by an Australian guy that had animation very similar to this game (shadow animation). from memory it was about a dude and professor that flew to another planet to find a cure for a virus that the dude's wife had. The creator won an award for it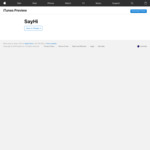 Related Store: sayhi