Do You Ever Refuse to Park at McDonald's Drive Through ?
ELH05
on 09/08/2017 - 11:29
Last edited 09/08/2017 - 11:44 by 1 other user
So on the weekend I was in a McDonalds drive through, average amount of cars, there was a wait of about 3 mins before I got to the window, my order was for 1 cappuccino and that is it, got to the window and they ask me to park for it.
I refused, then the lady at driver through told her manager that I refused. And within less than a minute my coffee arrived.
Totally get why you have to park when you are ordering a big meal/meal with changes etc, but 1 coffee - I haven't ever done this before, but for my order, I though the request was unreasonable.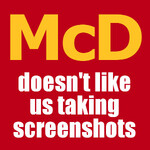 Related Store: McDonald's