expired DPR99BL+ DAB Rechargeable Digital Radio - ONLY $139!
30
DPR-99+ DAB+ | FM-RDS RECHARGEABLE PORTABLE DIGITAL RADIO RECEIVER GLOSSY BLACK
Weekly Special at Radio Parts WAS $219 - NOW $139!
FEATURES:
FM and DAB+ / Digital Radio Plus
Superior reception and sound quality
Re-Chargeable battery facility (Batteries not included)
Charging and Low Battery LED indicator
Compact design for use anywhere
FM-RDS displays station name and/or song title
5 station presets per band (Total 10)
Battery and 240V operation (AC Adaptor supplied)
Menu Display for selection of major functions
100 hours battery life
Stereo sound through headphone jack
Australian 'Digital Radio Plus' logo onproduct and gift box
Please follow the below link for FULL specifications - HURRY, Offer ends October 22nd!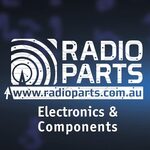 Related Store: Radio Parts Group