expired Coles: Receive $5 off Your Next $100 Grocery Bill by Completing an Online Survey or Just Download The Voucher
730
Useful for those who do their grocery shopping at Coles.
Shop at any Coles, Complete the survey within 48 hours of shop, Print out $5 voucher
Fill out the survey, takes a few minutes if you read through, probably faster if you don't. At the end you are presented with a download link to a PDF of a $5 printable voucher (for purchases over $100) which you can use at any Coles, Coles Central or Bi-Lo store. Just filled in my survey today and voucher expires on Nov. 8. It says you can fill one of these out once a month but not sure how they verify this as they don't use any of your details to verify completion of survey.
Screenshot of competition of survey which shows section about free voucher
Via [Buckscoop]
Edit: Appears that the coupons are not unique and you could possibly use it an unlimited amount of times until November 8 (although you would still have to do $100 worth of shopping).
The direct download link of the coupon is down, use the Mirror Link
or Alternate Mirror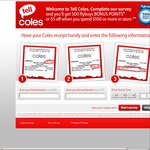 Related Store: Tellcoles.com.au