(Possible Scam) Free PROMOTIONAL T-SHIRTS with Free Shipping to AU @ Degorilla
Update: Looking at this comment and webpage link this could be a scam. Keeping this deal open for discussion.
Few options to select from
MUSIC
EVOLUTION
GIRL POWER
POLO
MERRY CHRISTMAS
CUSTOM TEXT
FASHIONISTA
TIE
DON'T F**K WITH ME
HELLO FRIDAY
And for Men or Women in various size options too.
Credit goes to nick123 over at Topbargain in finding this deal.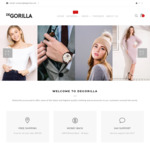 Related Store: Degorilla.com
or
to Join The Conversation