Click Frenzy 2018 officially begins 7pm (AEDT) Tuesday, November 13 2018.
---
Deals
As always expect deals to be posted earlier than 7pm, some are already out.
Follow all the deals & discussion via the OzBargain Click Frenzy 2018 Sales & Promotions page. The Click Frenzy sales page can also be accessed from the 'Pages' menu at the top of the website for easy access.
Please add 'Click Frenzy' tag to your deal post and remember to click subscribe on your favourite stores to get an email and/or web notification if any deal is posted for them.
---
Go Wild
The 'Go Wild' 99% off deals (not for everyone), will also return this year. You can see comments on last year's forum topic regarding the 99% off deals, they are generally hard (but not impossible) to get if you have the time (lots of refreshing required). Details and Example items below. There will also be Nintendo Switch Console for $5, Alexa Echo Dot 3rd Gen $1 and Beats by Dre Headphones $4 plus others not pictured.
HOW TO BAG A 99% OFF DEAL!

Register a FREE Click Frenzy account HERE!
Make sure you're logged into your account during Click Frenzy.
Whilst browsing Click Frenzy, keep an eye on your notification icon. When a number appears next to this icon (like below), click on it fast to get your clue to access an amazing deal!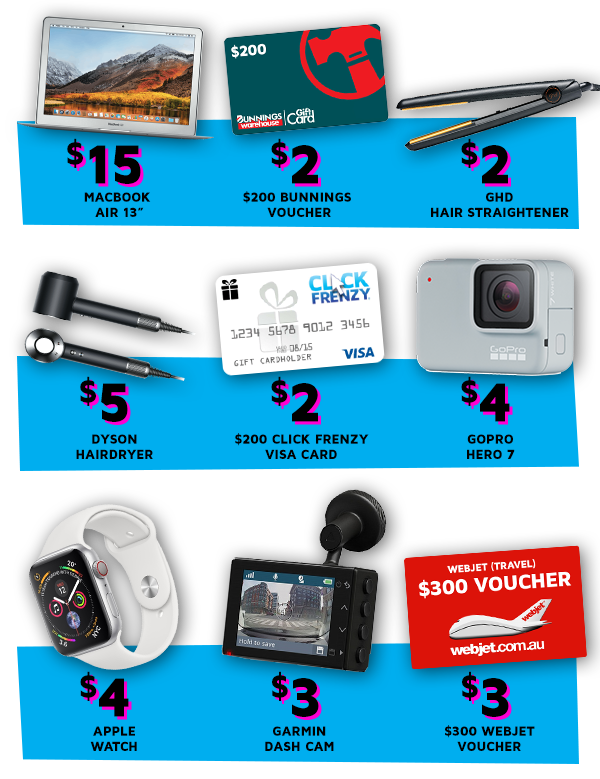 ---
* 8:30pm-9:30pm - Apple Watch for $4
* 10:00pm-11:00pm - $200 Bunnings Voucher for $2
* 10:00pm-11:00pm - Dyson Hairdryer for $5
* 6:00am-7:00am (Wednesday) - Garmin Dash Cam for $3.
* 6:30am-7:30am (Wednesday) - Echo Dot for $1.
* 8:00am-9:00am (Wednesday) - $300 Webjet Vouchers - $3
* 8:30am-9:30am (Wednesday) - GHD Hair Straightener - $2
* 9:00am-10:00am (Wednesday) - Beats Solo3 Headphones - $2
* 10:00am-11:00am (Wednesday) - Nintendo Switch - $5
* 10:30am-11:30am (Wednesday) - $100 Click Frenzy Visa Gift Card - $1
* 11:00am-12:00pm (Wednesday) - iPad Mini Wi-Fi 128GB - $5
* 12:30pm-1:30pm (Wednesday) - Roomba Robot Vacuum - $6
* 1:00pm-2:00pm (Wednesday) - $200 Click Frenzy Visa Gift Card - $2
* 1:30pm-2:30pm (Wednesday) - LG Soundbar 300W - $3
* 3:00pm-4:00pm (Wednesday) - GoPro Hero7 - $4
* 4:00pm-5:00pm (Wednesday) - UE Megaboom 3 - $3
* 5:00pm-6:00pm - $100 Bunnings Voucher - $1
* 6:00pm-7:00pm - DJI Tello Drone - $1
* 7:00pm-8:00pm - Macbook Air 13" - $15
* 7:00pm-8:00pm - Sony 65" UHD Smart TV - $18