expired FREE NIV Bible Download for OFFLINE Reading from YouVersion Apps
1145
You have to use different e-mail address on your phone account if you have downloaded it before.
Limited Time: Free NIV Download!
To celebrate Zondervan Publishing's all-new Once-A-Day reading plan — Biblica, in cooperation with Zondervan, is offering the NIV (New International Version) to the entire YouVersion community for download in the Bible App beginning January 1.
When you download the NIV, that means you can read it anytime, anywhere—even when you don't have an Internet connection or a network signal! (Check our Support site for details on how to download the NIV to your specific device.) Make sure you download your offline copy of the NIV soon — it's only available until January 21!
https://www.youversion.com/mobile
HAPPY NEW YEAR to all OZB and may u have a great year!
keep the bargain & deals coming in :))
All the best!
Mod: Removed warning
Mod: As with all deals but especially this one let's act respectfully taking note of the commenting and voting guidelines.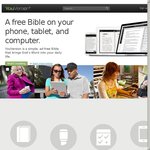 Related Store: Youversion.com
or
to Join The Conversation