monkeyjaja » user profile

| | |
| --- | --- |
| Member Since | 28/11/2019 |
| Last Seen | 28/06/2020 |
Recent Activities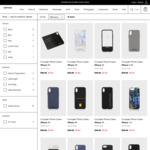 Just picked up an iPhone XR case from Crumpler Market City Outlet (NSW) store. Other models (7/8, X, XS) are also available, looks like...

monkeyjaja
replied to

Imnotwhouthink
on
Dyson Pure Hot+Cool Link Purifying Fan Heater HP03 with Bonus Filter $549 Delivered @ Dyson
FYI, I just spoke with the Dyson live chat and asked for the 10% on top (as an existing Dyson product owner). You can't use it to stack on...