expired 30% off Sydney Royal Easter Show Tickets @ CityHunter
210
Just got this in my email and it looks like a pretty darn good deal!
This email was sent to me by MoreFun which is closely associated with CityHunter. They provide regular CityHunter customers with rewards, kinda like Flybuys but for CityHunter.
This deal starts tomorrow (17th March 2010) and ends 21st March 2010. You have to go to your nearest CityHunter and buy it from the reception - but the tickets must be picked up after March 27th 2010.
Most of the details are in the email. It seems to only be directed at MoreFun members but I don't see how they're gonna check if you are a member or not.
Prices:
Adult - $23.10
Concession - $18.20
Child - $15.40
The email:
Hi MoreFun Members!

With the 2010 Sydney Royal Easter Show just around the corner (1st April - 14th April), we have some EXCITING news!

City Hunter has been authorised to sell Easter Show Tickets and they are giving a never before seen 30% OFF regular pricing!

That's right! 30% OFF!

To purchase these awesome tickets, simply go to your nearest City Hunter Internet Cafe and purchase from shop reception. These tickets are on sale between 17th March 2010 until 21st March 2010, so get in quick and don't miss out! (Tickets need to be picked up from City Hunter from the 27th March onwards)

Don't forget! These tickets are ShowLink Tickets, which means that you can train it there via City Rail, or grab a Sydney Bus to the show, saving you even MORE $$$!

This means you have that extra cash to get that EXTRA Showbag, an EXTRA chance for that sideshow prize or go on an EXTRA carnival ride!

Here are the ticket prices!

Adult - $23.10 (rrp $33.00) 30% OFF
Concession* - $18.20 (rrp $26.00) 30% OFF
Child - $22.00 (rrp $15.40) 30% OFF

So get down to your nearest City Hunter and grab those tickets!

*Valid concession cards required for Concession Ticket purchases.
CityHunters located at:
- Chinatown (City)
- Haymarket (City)
- Burwood
- Bondi Junction
- Chatswood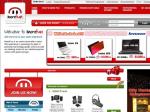 Related Store: More Fun