expired Hardy's 'Oomoo' Sauv Blanc 2014 (6x 750ml) - $28 Delivered ($4.66/Bottle) RRP $20/Bottle @ GraysOnline eBay
1030
Affiliate
P
Budju
on 09/01/2017 - 19:58
www.ebay.com.au
(1999 clicks)
Last edited 10/01/2017 - 00:12 by 2 other users
CSITE20CSUNNY20
$15 a bottle at Dan Murphy's https://www.danmurphys.com.au/product/DM_321831/hardys-oomoo...
Seems like a pretty legit bargain. Use 20% off code CSITE20 or CSUNNY20
Original 20% off at Selected Stores on eBay Deal Posts: CSITE20 & CSUNNY20
EDIT: Thanks for all the positive feedback guys. Just going to say don't get too crazy and buy 10 cartons, the 2014 vintage means it should be consumed within a reasonably short time frame (6 months max). Keep in cool and dark place without too much temperature fluctuation.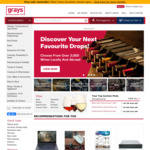 Related Store: GraysOnline