expired FeiyuTech Vimble C 3 Axis Gimbal from Tomtop AU$121.04 Delivered
31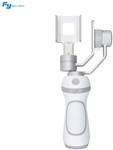 Affiliate
HTY50FYTY
Updated with new code.
This looks similar to the Zhiyun Smooth-Q that was on sale recently (https://www.ozbargain.com.au/node/317639) but this seems much cheaper but also has some slightly different features (some better such as using while charging and some worse such as 12hrs vs 5hrs use time). This site has a comparison about 2/3 of the way down the page https://actioncamguides.com/cheap-yet-good-gimbal-vimble-c-f....
I haven't bought this so can't comment if it's good or not, just seems like a good deal.
You must use the coupon code and i have no idea how long it is valid for. I tested it and the price went from AU$189.04 to AU$134.64 with free 12 day (supposedly) shipping.
Specifications:
Brand: FeiyuTech
Model: Vimble c
Color: Black
Suitability: For iPhone series, for Huawei P9 / P9plus, for Xiaomi 5 series, for Samsung Note5 / S7, and other 50mm-80mm smartphones in width; Also for GoPro Hero 5/4/3/3+ and other action cameras of similar dimension (when together used with 2pcs EVA foam pads)
Tilting Angle: 320°
Rolling Angle: 320°
Panning Angle: 320°
Battery Type: Built-in battery, 3.7V 2200mAh (you can use it while charging)
Working Mode (With the operation of toggle switch):
1. Single tap toggle switch: Switch between Panning Mode/ Panning and Tilting Mode
2. Long press toggle switch and hold it: Enter Lock mode from Panning Mode or Panning and Tilting Mode,release it to quit Lock mode .
3. Tri-tap toggle switch: Reset
4. Long press toggle switch and Bluetooth shutter simultaneously for 1 second: Standby mode
5. Vertical and horizontal shooting mode(switch with toggle switch)
6. Toggle to the left or right: Zoom in and out(Set up the parameter of Exposure、WB、Focus and Zoom with Feiyu On APP)
7. Control the movements of four directions by the joystick
8. Take control of picture and video taking with bluetooth shutter (working with Feiyu On APP)
Base Material: ABS+PC (handle part), Aluminum alloy 6061 (metal part)
Battery Life(working) Time: 5 hours
Main Functions for Users: Initialize the gimbal, upgrade the firmware by your PC or Mac , work with Feiyu On to face tracking, timelapes, panorama, upgrade the firmware ,set up the parameters of motors and speed etc.
How to Balance It: Loose the knob ring, move the cross arm to the position that keeps the balance, then tighten the knob ring.
Item Size: 420g / 14.8oz
Package Size: 30.5 * 15.3 * 7.2cm / 12 * 6 * 2.8in
Package Weight: 850g / 30oz
Package List:
1 * Vimble c Smartphone Gimbal
1 * USB Cable
2 * EVA Foam Pad
1 * User Manual (English & Chinese)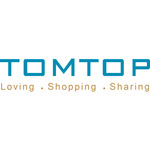 Related Store: TomTop