expired Nitecore Intellicharger I8 8 Slot Battery Charger for Li-Ion/IMR/Ni-MH/Ni-Cd US $36.99 (~AU $49.51) Delivered @ Zapals

420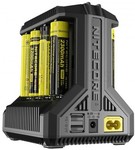 Affiliate
nisbc081103
when you want to impress that special someone on your first date by charging more than 4 eneloop batteries at once - then this is it.
it's even got 2 usb charging outputs so you can charge other stuff as well. -damn!!
Gearbest have it for US$49.95 delivered
Banggood also US$49.95 delivered
cheapest on aliexpress US$49 delivered
The Nitecore Intellicharger i8 is well capable of charging and monitoring up to 8 batteries independently and automatically detecting the power level of batteries to select the appropriate voltage and charging mode. It utilizes Active Current Distribution(ACD) technology to actively distribute its power among 8 slots in an orderly manner to achieve effective and rapid charging. The red/green indicators tell you the charging status- charging in progress/charging completion, making it very easy to operate. And the built-in reverse polarity protection, short circuit protection, and overtime protection ensure reliable performance and enhanced safety.
Features
Charge up to 8 batteries simutaneously.
Charging speed up to 1500mA in a single slot.
Monitor each of the 8 slots individually.
Active Current Distribution(ACD).
Auto detect power lever of the batteries for appropriate voltage and charging mode.
Three chargin modes: constant current, constant voltage, -dv/dt.
Automatically stop upon charging completion.
Built-in protection sysytem: over-charging protection, reverse polarity protection, and short circuit protection.
Activate depleted Li-ion batteries.
USB output.
Designed with optimal heat dissipation.
Specification
Brand NITECORE
Model Intellicharger i8
Input AC 100-240V 50/60Hz 0.6A(MAX) 30W DC 12V 3A
Output Voltage Battery: 4.2V±1%/1.48V±1%
USB: 5V±5%
Output Current Battery: 1.5A x 2, 1A x 4, 0.75A x 4, 0.5A x 8
USB: 5V x 2.1A
Compatible With Li-ion/IMR: 10340, 10350, 10440, 10500, 12340, 12500, 12650, 13450, 13500, 13650, 14350, 14430, 14500, 14650, 16500, 16340 (RCR123), 16650, 17350, 17500, 17650, 17670, 18350, 18490, 18500, 18650, 22500, 22650, 25500, 26500, 26650
Ni-MH/NiCd: AA, AAA, C and D cell
Dimensions 11.7 x 10.1 x 13.5 cm
Weight 488.2g(without cord and battery)
Package Contents 1 x NITECORE Intellicharger i8
Coupon: nisbc081103 (you need to be logged in to apply the coupon)
This item will be Shipped by Air Parcel (which is meant to take 5-8 business days but……)
BYO - figure 8 power cord.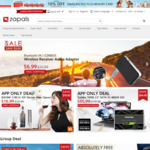 Related Store: Zapals