$20 off at Amazon AU for New Users (Minimum Spend $79)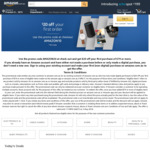 Affiliate
AMAZON20
Use the promo code AMAZON20 at check-out and get $20 off your first purchase of $79 or more. If you already have an Amazon account and have either not made a purchase before or only made a digital purchase, you don't need a new one. Sign in using your existing account and make your first (non-digital) purchase on amazon.com.au to get the offer.
NOTE: Offer excludes items sold by third parties, therefore only works for items sold and shipped by Amazon AU. (Thanks ce5himm, Diji et al)
This is not a duplicate to the previous AMAZON10 deal. One part of the graphics in the page still shows AMAZON10 but the text describes the code AMAZON20.
This stacked with other Amazon codes at the time of writing. For example, Echo Plus and one Hue bulb can ordered for $151.75 by combining the following offers:
(1) code AWSECHO25 to get 25% off Echo products (https://www.ozbargain.com.au/node/371595)
(2) Free Phillips Hue Bulb with the Echo Plus
(3) code AMAZON20 for new customer
(4) free delivery
I confess I have issues resisting code-stacking deals!
Mod: Click the related tab to see all AMAZON20 deals.
Update: Code working again 10/5
Update: 3 June - The offer is extended until 11:59PM (AEST) on 30 June 2018.